General maintenance
You should regularly take a look at a gearbox in your daily work routine. In the event of abnormalities, maintenance should be carried out as promptly as possible. However, these measures must be carried out at the latest after 3000 operating hours or after 1/2 year:
Check oil or oil level.
Check the seals. Leakage?
Check brake air gap
If it is a transmission with a torque arm, check the rubber buffers and replace them if necessary.
Depending on the external influences, the surface or corrosion protection coating should be checked and replaced accordingly.
Oil, rolling bearing grease and shaft seals
As far as the maintenance of a gearbox is concerned, lubrication of the gearbox is crucial: the right amount of the right lubricant in the right place!
Gearwheel and gear bearing damage can be avoided by proper lubrication (clean and sufficiently large amounts of oil), as it is above all the contact between metal and metal that causes damage to the gear unit without lubrication. But oil is also important for dissipating heat.
When should oil, rolling bearing grease and shaft seals be replaced?
Basically applies:
depending on operating conditions
Replace mineral oil after 3 years at the latest, replace rolling bearing grease and shaft seals.
Replace synthetic oil after 5 years at the latest, replace rolling bearing grease and shaft seals.
At high operating temperatures or oil bath duration temperatures, lubricants must be changed after shorter intervals. See "Lubricant Change Intervals".
Basically, synthetic & mineral oils have longer change intervals than e. g. synthetic lubricating oils for the food industry.
In turn, bio-oils have to be changed even more frequently.
Please consult the gear manufacturer or refer to the operating instructions to find out how often you have to change the oil of your gear unit. The following diagram shows the influence of the oil bath duration temperatures on the lubricant change intervals.
Lubricant change intervals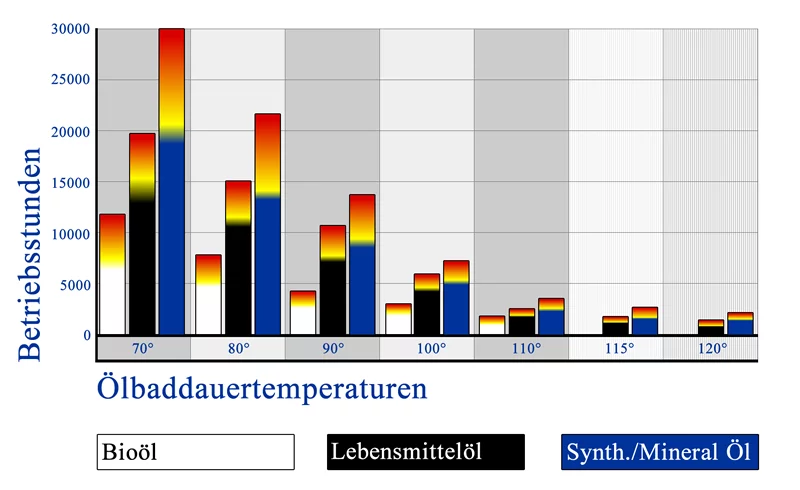 In this operating manual from SEW, you can see in a graphic illustration how often the oil should be changed for SEW standard gear units with different oil types and operating temperatures.
Maintenance-free gear units from SEW
The small spur gear units R07-R27, the flat gear unit F27 and the Spiroplan gear units from SEW are lubricated for life and are therefore considered maintenance-free. Are you interested in gear units or gearmotors from SEW? Inquiry form
Machine diagnostics
There are several metrological and diagnostic methods for determining the condition of drives and gearboxes. The earlier a problem is detected, the cheaper the repair will be and the more likely a 100% repair is to be expected.
Prevention means Activity instead of reaction. Therefore, it is always advantageous to include regular diagnoses in the maintenance processes to detect irregularities.
When does the diagnostic effort start to pay off?
With smaller gears and gearmotors, this diagnosis effort will not be operated, since the costs for diagnostics are in no economic ratio to the costs of drive technology. Exception: A longer standstill must be avoided at all costs. This effort is justified in the case of large drive technology such as industrial transmissions. Since here high acquisition costs and a high expenditure for the complete exchange are connected, the exchange of individual gear components such as rolling bearings, gears, shafts, etc. is worthwhile.
Regular maintenance & diagnosis is cheaper than a complete failure of the drive technology.
Analyses
Oil analysis: Can shed light on the type of wear.
Vibration analysis/-diagnostics (Torsional vibration analysis) with evaluation service
Torque measurements
Visual inspection (Optical control of the drive technology)

Flexible Video endoscopy for gear diagnosis: e. g. inspection of gears, rolling bearings, etc.

Thermography (drive components/switch cabinets)
Load state analysis
Analysis: device-specific environmental influences such as fine dust, moisture, etc.
Current consumption measurement
etc.
Further information
Do you have any questions?
Please contact us: Contact form
Rating
You liked this article? We are looking forward to your feedback or comments.

Comments
We are looking forward to your feedback, suggestions, criticism, wishes for topics (of course also via contact form).