IEC standard motors – AC motors of the current efficiency classes IE3 and IE4
Due to our long-standing contact to all relevant standard motor manufacturers we can convince with low prices. We take over the project planning of your required standard motor (power, speed, etc..) and the corresponding coupling as well as the suitable gear unit (required torque, speed). Let us send you a non-binding offer now! We also design and sell special motors and geared motors.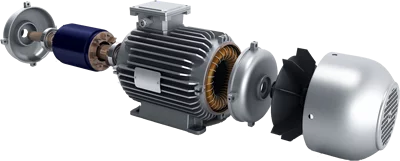 We are sales partners of AC motors, which means that we can offer you standard motors nearly at a market-driven price.
Applications
Norm motors are used in many industries and applications, e.g. as drives for pumps, fans, in air conditioning technology, conveyor technology, shredders, mixers, compressors, hydraulics and many more.
Offer
We offer a wide range of conversions/extensions of standard motors such as forced cooling fans, brakes, encoders, etc.
Number of poles
2-pole to 8-pole
as well as all pole-changing versions
Efficiency classes (efficiency)
IE1 – IE4
Motors
Asynchronous & synchronous
three-phase motors
Standard motors manufacturers
All sizes up to 160 kW and shaft height 315
ABB
All sizes and power ranges up to 710 kW and shaft height 400
Siemens
All sizes and Power ranges up to 1000 kW and shaft height 450
VEM
All sizes up to 500 kW and shaft height 355
KATT
All sizes from shaft height 100 to shaft height 560 without and with brake (SEW), also for direct gear unit mounting (SEW)
You are interested in standard motors and our services?